Life at the Interface of Science and Engineering
David R. Liu
Thomas Dudley Cabot Professor of the Natural Sciences, Howard Hughes Medical Institute Investigator
Broad Institute of Harvard and MIT
EMPAC Theater, Rensselaer Polytechnic Institute
Fri, September 20, 2019 at 10:30 AM
Coffee reception at 9:30 a.m. in the EMPAC Cafe
This lecture series was established through the generosity of UAlbany Distinguished Professor, Marlene Belfort, and RPI Institute Professor, Georges Belfort. This endowed lecture series is designed to address fundamental questions that require the expertise of both Life Sciences and Engineering to answer. This collaborative lecture series will bring world renowned experts to speak to the campus communities at both UAlbany and RPI. 
The link to the live stream of this lecture can be found here.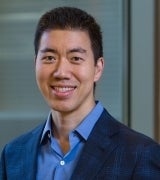 David R. Liu is the Richard Merkin Professor, director of the Merkin Institute of Transformative Technologies in Healthcare, and vice chair of the faculty at the Broad Institute of Harvard and MIT; a professor of chemistry and chemical biology at Harvard University and a Howard Hughes Medical Institute (HHMI) investigator. Liu's research integrates chemistry and evolution to illuminate biology and enable next-generation therapeutics. His major research interests include the engineering, evolution, and in vivo delivery of genome editing proteins such as base editors to study and treat genetic diseases; the evolution of proteins with novel therapeutic potential using phage-assisted continuous evolution (PACE); and the discovery of bioactive synthetic small molecules and synthetic polymers using DNA-templated organic synthesis and DNA-encoded libraries. Base editing (named one of four 2017 Breakthrough of the Year finalists by Science), PACE, and DNA-templated synthesis are three examples of technologies pioneered in his laboratory.